EDUCATIONAL TOURS
"Appreciating new cultures is a great way to learn"
♦ ECONOMIC PRICES
♦ POSSIBILITY OF CONTRACTING BILINGUAL VISITS ( English-Spanish o Spanish-French). Language Immersion Tours are offered.
♦ FOR ALL TYPE SCHOOLS AND EDUCATIONAL INSTITUTIONS.
♦ CUSTOM-DESIGNED TOURS
Either if you are staying in Seville or travelling and passing by, we have an exclusive programme to adapt the visit to special groups with different levels of knowledge and interests.
The guided tour always follows as closely as possible the programme set by the college or any educational institution. All our guides are qualified experienced guides with upto date licences and With CAP teaching certificate awarded by the University of Seville.
The tours are educational and designed to get the student learning by making the visit fun and making them participant in divecovering a new culture.
"There ain´t no journey what don´t change you some"
Discount on the entrances to monuments for schools and educational institutions are offered.
THE CATHEDRAL AND THE GIRALDA GUIDED TOUR.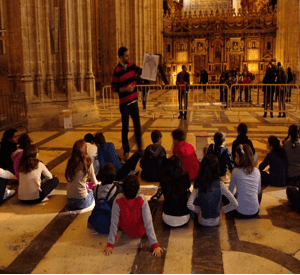 The visit to the cathedral is an exceptional learning experience as by visiting it Seville´s histroy can be explained. The students are encouraged to discover what the main features of the Gothic style are. It is the largest gothic cathedral in the world.
We will discover one of the official tombs of Columbus and the chapel where him and others like Magallanes prayed before leaving to explore new territories. To finish, we will climb the old Arabic tower, La Giralda. From the top the students can take some time to appreciate one of the best views of Seville.
Possibility of contracting bilingual visits ( English-Spanish o Spanish-French)
GUIDED TOUR – FINE ARTS MUSEUM
Spanish painting can be more appreciated visiting this extraordinary museum, housed in a former monastery.
The museum of fine arts in Sevilla is the second most important museum in Spain after El Prado in Madrid.
The best Spanish painters such as; Murillo, Velázquez, Zurbarán, Valdés Leal, and their best works can admired.
For foreing students it is an excellent oportunity for learning and discovering Spain artistic contribution to European art.
Possibility of contracting bilingual visits ( English-Spanish o Spanish-French)

If we really want to learn a new language,
it helps to fall in love with where it's from. 
TAPAS TOUR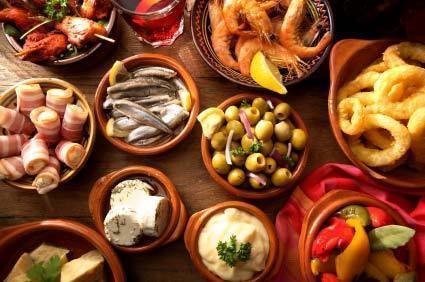 What could be more Spanish than tapas? a quintessential Spanish experience.
Students can enjoy delicious and typical Spanish food while expanding their practical vocabulary.
Explore Spanish cultural influences through a guided Tapas walking tour.
What our students said:
"I tried (and loved!) the local cuisine and experienced their culture"