TIPS TO SURVIVE EASTER FESTIVITY IN SEVILLE
Whether you are a religious person or not, you shouldn´t miss Easter celebrations in Seville. It is a unique festivity not necessarily simply religious but it goes beyond that.  The festivity shows us the value of "tradition" in Spanish culture. It is worth seeing and experiencing at least once in a lifetime.
I strongly recommend it to you. And after this, I am obliged to give you some tips to help you survive in Seville´s Holy Week and, not only that, but also to make the best out of it.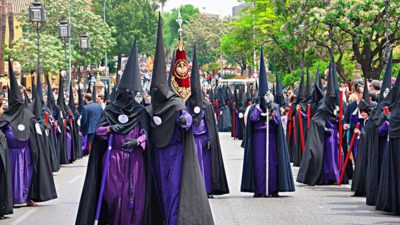 GET A GOOD GUIDE BOOK TO GET AROUND
The guide book is a like a small magazine giving g the name of the brotherhood, the itinerary it Will follow and its timetable. This should be your "Bible". Take it with you every time you come out from your hotel. https://www.semana-santa.org/itinerario-oficial-semana-santa-de-sevilla/.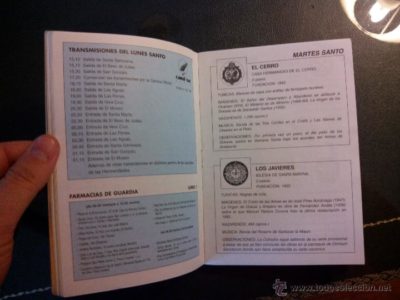 There around 6 to 9 brotherhoods marching in a procession every day of the week (except for Holy Saturday and Easter Sunday. These days have less floats coming out). Each brotherhood has been assigned a schedule and a fixed itinerary which should be strictly followed.
GET A LOCAL GUIDE
This is precisely what you need to do in such an interesting religious celebration. You get more out of your visit to Seville, because the local guide will take you to places and see floats at its best. This information doesn´t come in your guide books. Easter especially in Seville is a complex and beautiful cultural manifestation with religious symbols, codes and rituals. Once you find out about these codes and symbols, Easter will make more sense to you and Will provide you with a much more enjoyable experience.
PLACES TO WATCH PROCESSIONS
Holy Week is a very popular festivity for both nationals and foreigners. People prepare their vacations and their trip to Seville with plenty of time since the hotels are fully booked months in advance. So be prepared and book accommodation early enough, but choose a hotel which is not situated un the very center of town or you will have problems to sleep or even to reach the hotel door.
The streets are packed with people and sometimes the streets are narrow and crowded and it is very difficult to see the floats properly. However, there are spacious areas from where you can comfortably see the floats.
Beneath Triana bridge is a good place to see the processions passing by, especially during the "Madrugá!.  This takes place at night-time and to add to the impact and solemnity of the event, lights are turned off and it is beautiful to see all the precious stones and diamonds shine under the candle lights
The gate of Jerez is another option. It is a spacious square, large enough to accommodate a big crowd and you won´t feel overwhelmed. It is beautiful to see the Christ of the Students´ brotherhood that comes out from the university chapel on Maundy Tuesday.
ETIQUETTE RULES
Don't forget the "Sevillanos" like to dress nicely and even more for an important festivity like this. So treat Easter like a formal Sunday Mass and wear something nice. You will feel more in tune. However, be careful and wear flat comfortable shoes, you will spend most of the day walking and standing up waiting for a "float" coming up.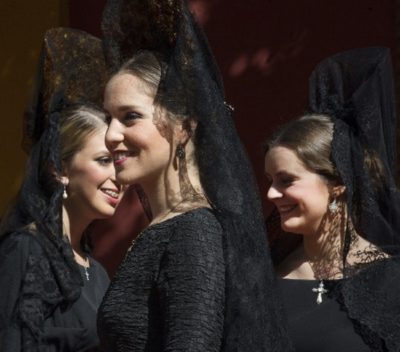 There is an order of arrival. Sometimes people camp for hours waiting for the processions. So if you want to see anything, get there early and be patient.
Don´t take with you passports or personal belongings of any especial value, there are pick-pockets everywhere taking advantage if the big crowds.
You will be impressed to see that despite the big crowds around you, once the "float" is there, everybody keeps quiet and watches in silence.
INDISPENSABLE EASTER VOCABULARY
If you know a little bit of Spanish you can try to ask local people for information. You will notice that everyone will be generally very willing to help you. It is satisfying and helpful to be able to communicate on a basic level with a local.
PASOS (pah-sohz). It comes from the word "paso" which means steps. It refers to the floats, and it makes a lot of sense as the floats, at least in Seville, are been carried by men, who are positioned underneath the floats and walk with small steps. The float is a wooden structure with sculptures on top. They are heavy and difficult to move. Sometimes, floats weigh 3000 kilos. These men are called COSTALEROS (kosta-le-ro).  They are in charge of carrying the "float" throughout the city. They are situated under the wooden structure, each if them carrying a weight of sbout 30 kilos.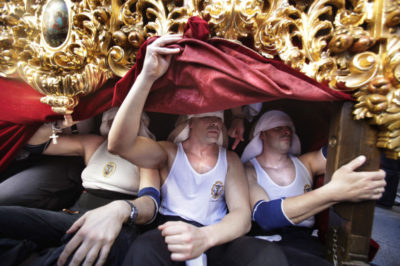 The nazarenos (nah-zah-ray-noz) are those penitents wearing the pointed hats. Each brotherhood has its own crest, and color of tunic. The nazarenos are members of the brotherhood and come out preceding either the float of Christ or the Virgin. Some more famous brotherhoods have over 2,000 nazarenos.
Food Is also an important part in this celebration and there are typical cakes especially made for this week so the cake shops are full of tempting torrijas ( thor-ee-hahz). This is a type of French toast with lots of honey. The best ones are the homemade ones. The pestiños (peS- tee-njo) are very popular too, it is more like a Moroccan pastry. Try them in la Campana cake shop (at the end of Sierpes street) or La Dulceria (Calle Pureza, 5,Calle Benito Más y Prat, 6).
 Book guided tours at Easter in www.sevillavisita.com