MURILLO, MUCH MORE THAN JUST A RELIGIOUS PAINTER
This year 2018, the city of Seville is doing its outmost to commemorate one of her best and most admired artists, born 400 years ago.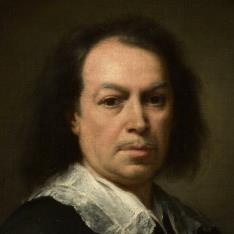 Bartolome Esteban Murillo (1617-1682) born and raised in Seville, is one of the most outstanding representative of the Baroque style in painting characterized by its overall elaborate quality with often dramatic and even theatrical effects.  Murillo, however,  has also been unfairly associated with a certain mawkishness and with being excessively sentimental, clichés his home town is keen to remove.
Murillo imbued an amiable air to the spirit of the Counter-Reformation painting his religious characters amid pleasant and moving scenes, as in his famous picture of the Madonna´s Inmaculate Conception, portraying a face fraught with innocence, or in his pious saints, human and humble but still faithful observants of the Catholic dogma.  Nevertheless, Murillo was more than just a religious painter at the service of the Church. He had a very skillful hand at portraying the human soul, thus creating a very wide and rich spectrum of feelings and sensations, both valid for the spectator of the past, as well as the audiences of the present days. His paintings emanate all the good feelings such as kindness, tenderness, concern, warmth, affection or love.
He also moves with extraordinary skill in the profane world depicting humble people and peasants he was probably met daily in his home town.  In this sense, he was more of a rebel separating himself from the former tradition and creating his own language.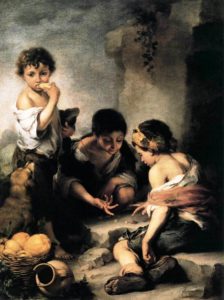 And it was precisely, this language together with the unusual and unconventional images of beggars and young rogues showing their dirty feet and mischievous expressions, which captivated foreign clientele, mainly Northern European, many of whom were rich merchants who had settled in Seville in times of prosperity, but had then moved away taking Murillo´s canvases with them once Seville had lost its monopoly with the Indies.
Some of this people, such as Josua Van Belle and Nicolas Omazur were close friends of Murillo, and sometimes commissioned their own portraits to their friend artist. This was an unexpected turning point to make Murillo more known abroad. But, ironically what made Murillo internationally reknown was the plundering carried out by the French troops raiding religious buildings during the War of Independence. As a result of this, lots of Murillo´s paintings are scattered in museums and art galleries all over the World.
The main purpose of celebrating the year of Murillo in Seville is to bring together some of his works hoping to create a fairer approach to Murillo and make people understand how he vastly exceeded his simplistic reputation as an artist whose work was constrained to purely religious paintings.
A variety of venues and events in Seville exhibit more than 600 works of Murillo.
FINE ARTS MUSEUM
 "Murillo y los Capuchinos de Sevilla"
The temporal exhibition in the Fine Arts Museum focuses in the work of Murillo done for the Monastery of the Capuchinos in Sevilla, 20 original canvases. The complete series of paintings executed by Murillo to the religious order is brought together for the first time after getting separated into different foreign museums due to the loot of the French troops of many religious buildings.
From November 28th, 2017 to April the 1st, 2018
Price 1,50 euros
Free entrance: for documented citizens of the European Union accredited and members of ICOM
SCHEDULE:
Tuesday to Saturday, from 9:00 to 20:00 hours
Sundays and holidays Opening: from 9:00 to 15:00 hours
Closed: Every Monday;  24th, 25th and 31st December 2017, 1st and 6th January 2018.
Note that the box office will close 30 minutes before the end of the opening hours.
ESPACIO SANTA CLARA
Under the footprints of Murillo.
This convent exhibits 62 works of Murillo, loans from private corporations, individuals collectors, the Prado Museum and Patrimonio Nacional.
        SCHEDULED:
Monday to Sundays 10 h to 20 h.
Entrace fee: 12 €.
Free entrance to residents, unemployed people subject to proof of their status and children under 16 years old. For Pensioners,
25 % discount for pensioners groups over 10 pax, and students with a valid student card
CATHEDRAL OF SEVILLE
Murillo and his religious iconography (la Mirada de la Santidad)
There are 16 Murillo´s paintings all of them commissioned by the archdiocese
to decorate the chapels of the Cathedral of Seville. All of them are very popular and know among the locals. They were initially thought to reinforce the religious message of the Church to indoctrinate and evangelize the Catholic congregation. The canvasses on display are accompanied by informative panels and videos explaining different paintings.
Schedule:
From Monday to Saturday 11:00 am to 18:00.
Sunday: from 14:30 hours to 19:00
Entrance fee: the fee paid to visit the Cathedral. 9 euros