SEVILLE ORANGES
One of the most popular attractions of Seville, which can be enjoyed free of charge as one strolls in the city, is the fragrance of the bitter orange trees. There are more than 14.000 decorative orange trees, a true paradise for orange marmalade lovers. The tree can be enjoyed either in spring or in winter, so it pleases everybody either for its culinary uses or for its ornamental or aromatic properties. Seville is not the only city decorated with this tree, but it outnumber  every other species of tree in this town and this makes Seville the capital of the bitter orange tree, known throughout the world as "Seville oranges" or "Seville marmalade.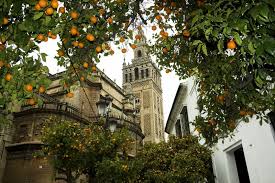 This beautiful tree was introduced to Spain by the Moors during Spain´s Islamic history. It was praised by Moorish poets and chosen not only for its nice fragrance but by its endurance as it stays nice and green all year around, providing a great shade in summer.
The "Citrus aurantium" is lovely to see and smell its blossom but do not try its fruit, it is very sour and not suitable to eat it fresh, however it has multiple uses. The most common and extended of its uses is to make marmalade. There are also some countries that uses the juice to enhance the flavor to certain dishes.
The "azahar" or orange blossom is very much used for aromatherapy and medicinal purposes. As the tree originated in Asia, Chinese had made herbal preparation with the orange peel and leaves as  a very effective remedy against constipation. And with its flowers, you can prepare a nice relaxing night cup.
The new natural medicine is also interested in the bitter tree to help to lose weight.  But there is a great concern too of the side effects. Taking the concentrated product can increase blood pressure and negatively affect the heart.
The Bergamot orange cultivated in Italy to flavored Earl Grey Tea is a long distant cousin of the bitter orange tree.
France uses the bitter orange trees for their perfumes in cosmetics. They also like use it to flavor eau-de-vie and alcoholic drinks. In Italy they like it to make Bergamot scented oil. In Cuba, the bitter oranges are very much used to marinate meats and accompany poultry dishes. In England they appreciate the marmalade. In Yucatan, it is employed like vinegar. In Egypt and elsewhere, it is fermented to make wine. In Spain it can be used either way; in cooking, to flavor drinks and food, in cosmetics to perfumed facial creams and distillated to extract oil. In Seville "agua de Sevilla" is a very citrus fragrance given by the orange blossom scent.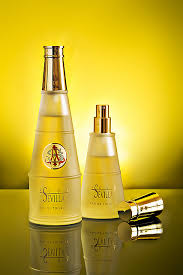 This popular perfume was designed and produced by two fashion local designers Vittorio & Lucino and it´s still very popular among women. Besides, "vino de naranja" translated as "orange wine" is a specialty in Andalucia. It is made with Oloroso Sherry base mixed with sour Sevillian orange peel and macerated then for eighteen months. This is why this wine has a very distinctive bitter orange after taste.
If you want to know more curiosities of Seville book with us in www.sevillavisita.com